2020 Annual Report
Challenge & Change.
Support & Growth.
In Conversation with

Paul Taylor and Elaine Taylor
What a year. From natural disasters to the pandemic, the last 12 months have been anything but traditional. Mortgage Professionals Canada made the decision to reflect these historic and momentous changes our Annual Report for 2020. As such, we are embracing the virtual transition the world has taken and are producing our 2020 Annual Report as an exclusively digital document. Featuring images, videos, and dynamic content alongside our story, we sincerely hope you enjoy this new approach.
To kick it all off, instead of penning their own remarks, 2020 Chair Elaine Taylor and President & CEO Paul Taylor, discuss the challenges and successes of the past year. As Chair, Elaine led our Association through unprecedented times with grace and strength. We thank her for her dedication, effort, and hard work.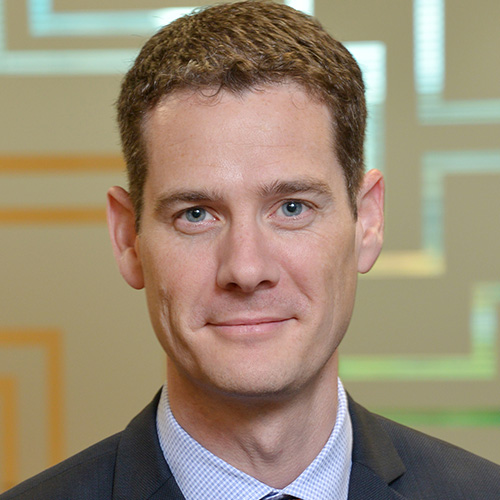 Paul Taylor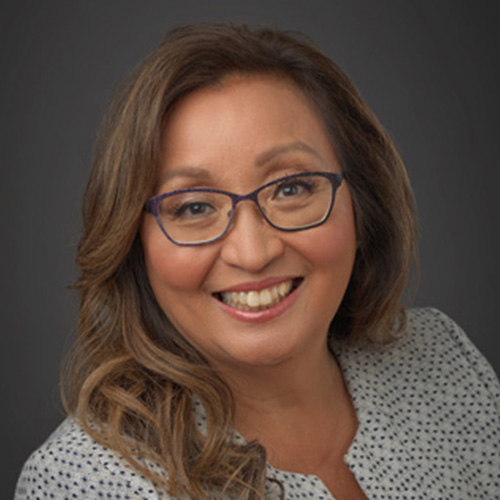 Elaine Taylor
Paul: "What accomplishments are you most proud to have been part of during your time as MPC Chair?"
Elaine: "Even though 2020 was such a challenging year, we saw a lot of wins – it's hard to choose just one accomplishment to highlight. To name a few, we launched the Accredited Mortgage Professionals of Canada (AMPC) designation, we reached membership of over 12,965 professionals (a new high!), and we advocated for the mortgage broker channel at all levels of government. I'm proud to have been part of all of these moments."
Paul: "What struggles surprised you as MPC Chair during the COVID-19 crisis?"
Elaine:"No longer being able to gather together in person was a huge obstacle. We rely on our National Conference and Regional Symposiums to connect and network. MPC is a diverse community of professionals. It is such a privilege to speak before all of you, and I am sorry that there were so few opportunities to do so in person this year. That said, I'd like to take a moment to thank our talented staff team – to quickly pivot to webinars and virtual symposiums was brilliant."
Paul: "How did you and the Board pivot when the pandemic began?"
Elaine: "Looking back on 2020 and my time as Chair of Mortgage Professionals Canada, we – all of you, the Board, and the staff – achieved a great deal. At the beginning of my term, I set several mandates on which to focus: improved government relations, increased membership engagement and transparency, and strengthening education.
While the COVID-19 pandemic did shift our immediate areas of focus to ensuring our members had access to informative webinars, industry panel interviews, government assistance program resources, and more, we did not lessen our resolve to address these initial areas of concern. I would like to sincerely thank the Board for their impressive efforts during this challenging time."
Paul: "What advice would you give every member of Mortgage Professionals Canada?"
Elaine: "As the size of our membership continues to increase, it's more important than ever that every member participates in this amazing organization. I encourage you all to be engaged. As individuals we are strong, as a community we are stronger, and as a unified voice, we are powerful."
With Gratitude

Our Board of Directors

Paul Taylor and Elaine Taylor may have helped to lead Mortgage Professionals Canada through the challenges and uncertainties of 2020, but none of our success would be possible without the strength, commitment, and dedication of our Board. We would like to extend a heartfelt thank you to the individuals below. Your guidance, leadership, patience, and courage were paramount in ensuring the continued success of MPC, its members, and the mortgage broker channel as a whole.
Executive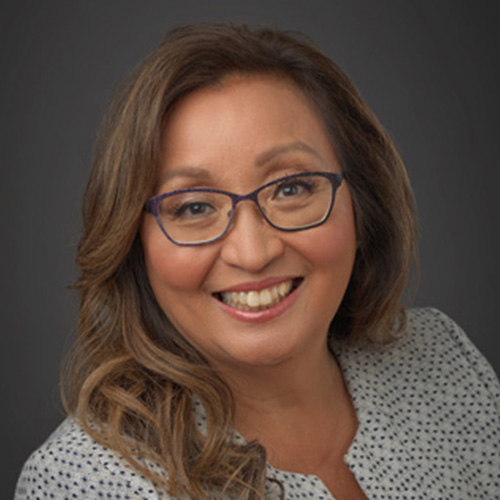 Elaine Taylor
Chair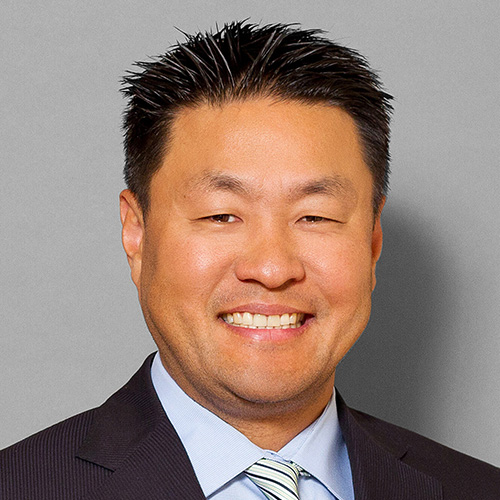 Dong Lee
Vice Chair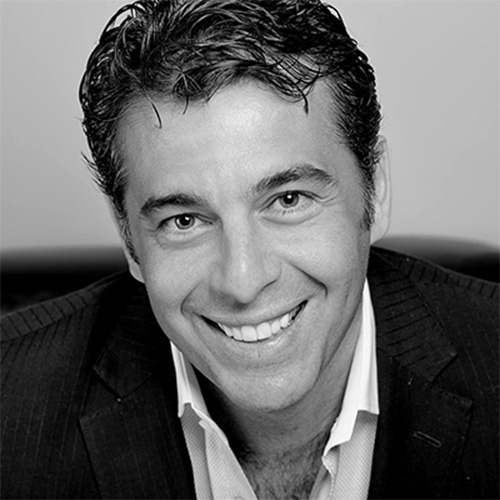 Joe Pinheiro
Treasurer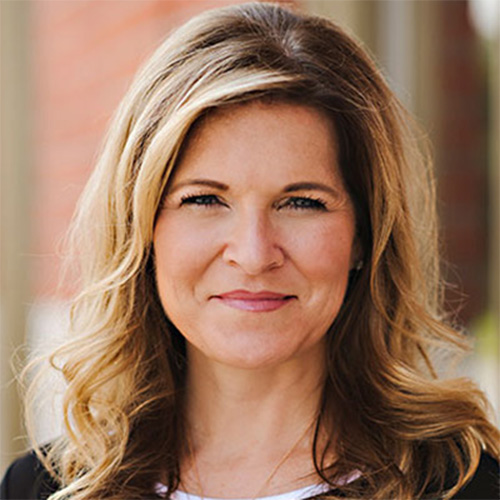 Tracy Valko
Secretary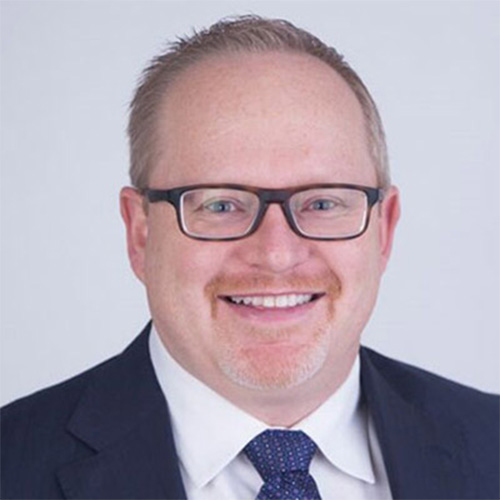 Michael Wolfe
Past Chair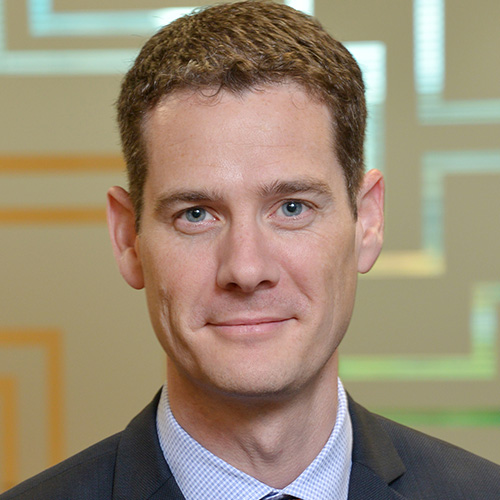 Paul Taylor
President & CEO
Directors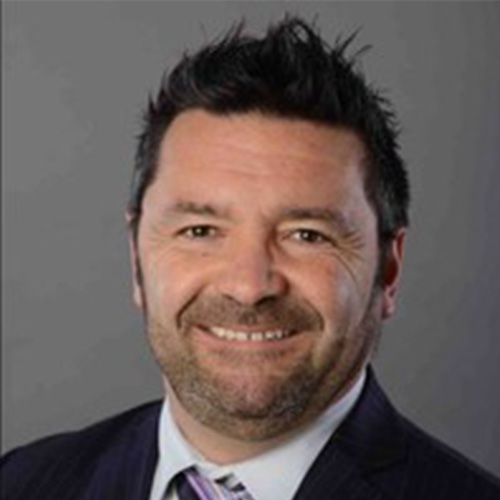 Vince Agozzino
Ontario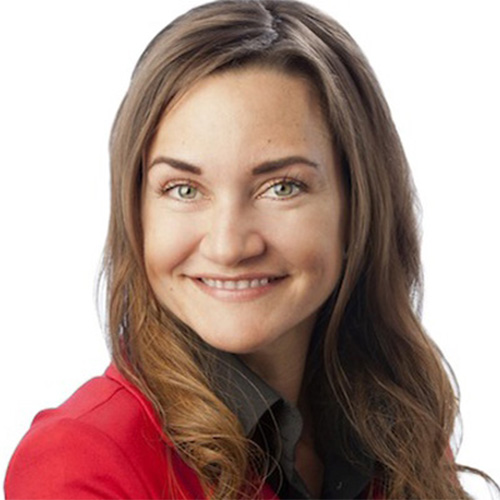 Jennifer Burrage
Atlantic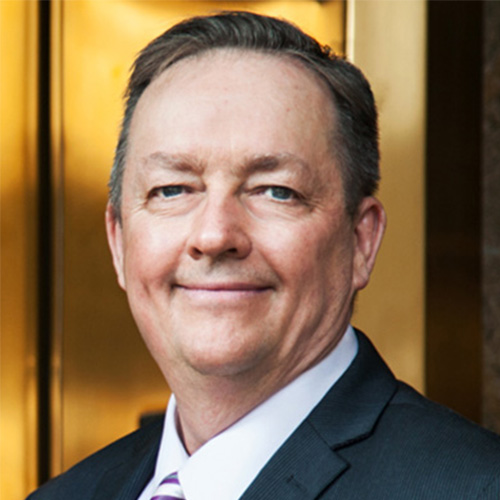 Doug Farmer
Alberta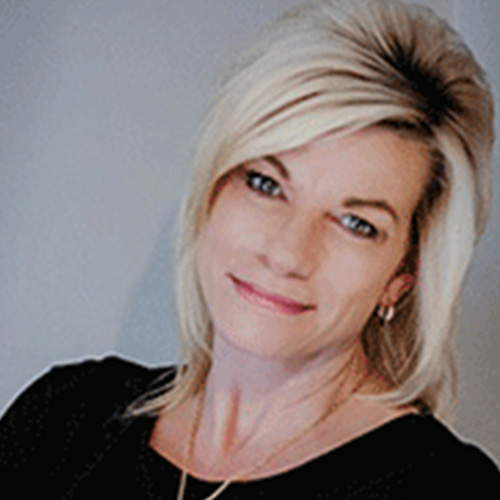 Shirl Funk
Manitoba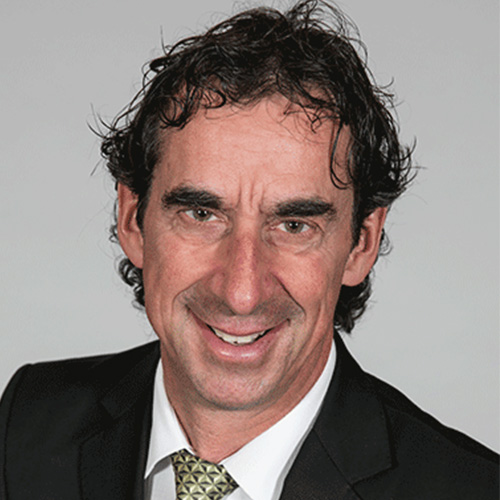 Claude Girard
Quebec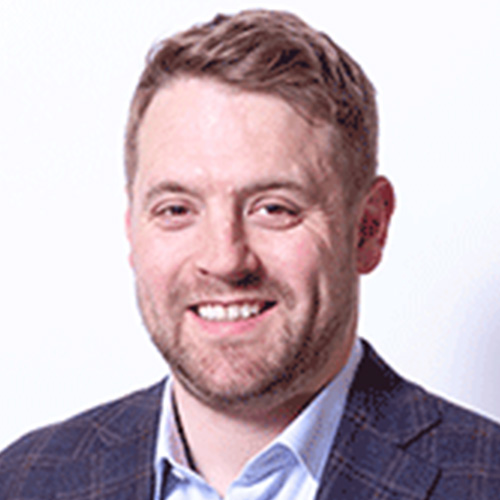 Joe Jacobs
Alberta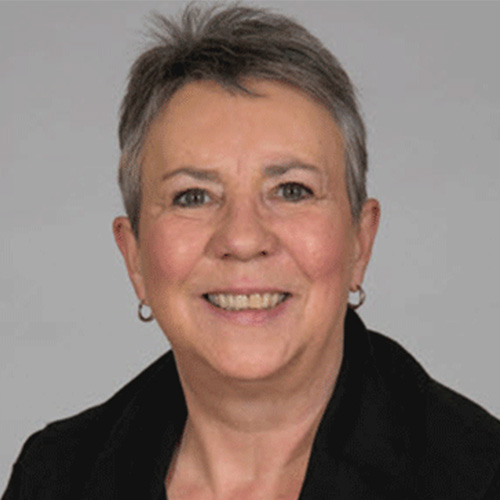 Jane Kulbida
Saskatchewan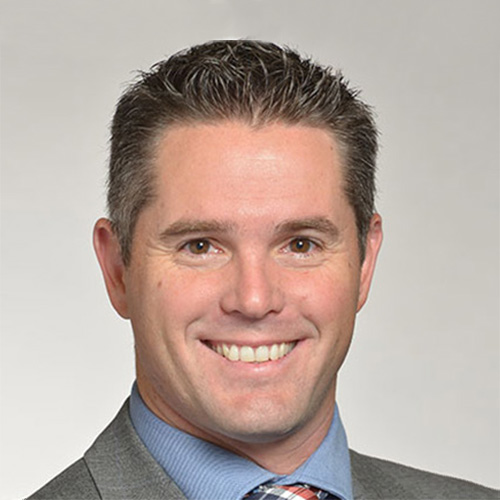 Mathieu Lebrun
Quebec
Megan McDonald
British Columbia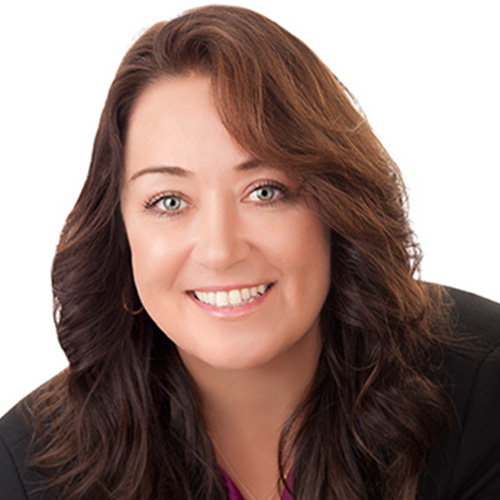 Hali Noble
British Columbia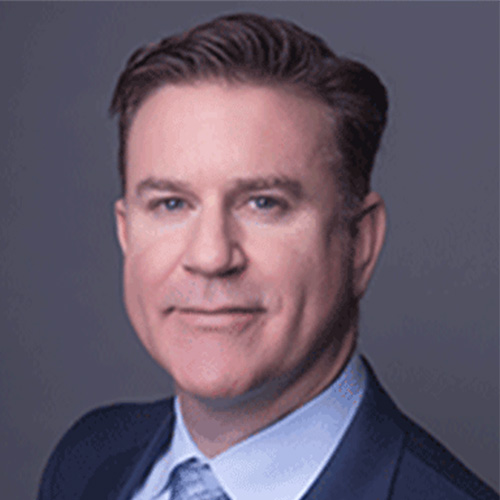 Gord Ross
AMBA Representative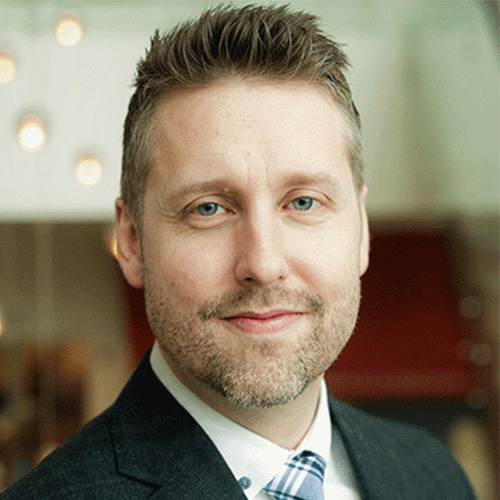 Nolan Smith
Director at Large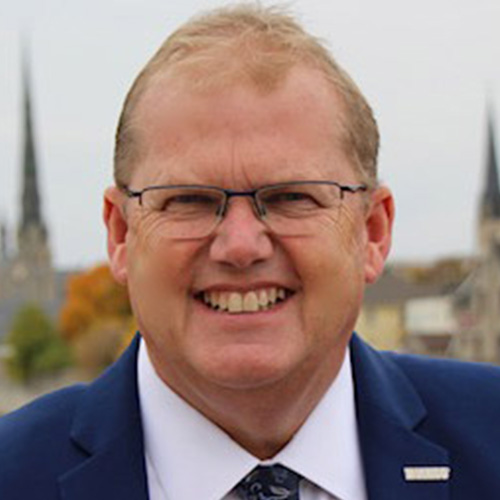 Mark Squire
Ontario
Discovering The New Normal
While 2020 has been full of unprecedented difficulties and obstacles, it's important that we take time to capture the positive. From significant strides in government relations to membership growth to an impressive catalogue of virtual events, we'd like to highlight some of our best moments from this year.
None of us could have predicted the unique challenges that would befall us in 2020.
It was a year fraught with uncertainty and adversity. Although projections for Canadian real estate were initially marred with cautious concern, the market thrived. Mortgage professionals helped welcome a record-breaking number of individuals and families into new homes. And Mortgage Professionals Canada continued to support the industry, the channel, and our members.
---
When the COVID-19 crisis began in March of 2020, our world changed. In a matter of mere weeks:
We transitioned the MPC office and staff to work remotely
We launched the COVID-19 Information Hub, a curated source of need-to-know pandemic news and must-have resources
We were forced to cancel our conferences, seminars, regional events, and golf tournaments

We organized a series of speaker panels with industry leaders to answer your most timely questions, discuss how the industry is adapting to an unprecedented business environment, and how we can work together to overcome shared challenges

Andrew MacKillop

Andrew Moor

Ben Rodney

Boris Bozic

Chris Brossard

Devon Ajram

Garry Morrsion

Hali Noble

Jared Morrison

Jason Ellis

Lysa Fitzgerald

Mark Aldridge

Michael LeBlanc

Rejean Roberge

Rene Quercia

Romy Bowers

Ryan Lee

Steve Ranson

Stuart Levings

Yousry Bissada

We created a "Navigating The New Normal" webinar series
We implemented virtual classes for the Ontario Mortgage Agent Course and Ontario Mortgage Broker Education Program
We offered Free COVID-19 Education Courses as well as a COVID-19 Health and Wellness Education Series
We commissioned a series of reports from our Chief Economist, Will Dunning, to track the ongoing impact of the pandemic on the housing market and the idea of homeownership
Our staff team and Board went above and beyond to ensure that MPC employees were safe and that our members were supported. The combined efforts, late hours, creative solutions, and dedication cannot be understated.
Advocacy
As the voice of the mortgage broker channel, MPC advocated for our collective interests at all levels of government. The Board, members volunteers and staff worked expertly to influence and inform key federal and provincial decisionmakers in every party, presenting a strong, unified community.
60+ meetings with MPs, senators and senior staff in a successful Hill Day in February 2020

Testified before the federal standing committee of Finance on two occasions, and once before the standing committee on Human Resources

Submitted recommendations relating to mortgage brokering in 5 provinces, testifying before multiple provincial finance standing committees related to COVID-19 and business recovery

Worked with Ministry of Finance in Quebec on new Mortgage Brokers Act and transition of regulatory oversight to AMF
We ensured that industry related concerns were front and centre with federal and provincial regulators who were dealing with never-before-seen housing market and mortgage issues.
Membership & Networking
MPC recognizes the importance and value of our numbers, and in 2020 we worked to increase member engagement and activity, as well as membership size overall. We are now at our highest membership in more than eight years at over 12,965 members strong.
Membership snapshot
As of December 2020
| | | | |
| --- | --- | --- | --- |
| Alberta/NT | 1,272 | 89 | 1,403 |
| Atlantic | 309 | 17 | 346 |
| BC/Yukon | 1,294 | 61 | 1,392 |
| Manitoba | 230 | 12 | 246 |
| Ontario | 7,275 | 462 | 7,974 |
| Quebec | 1,268 | 38 | 1,333 |
| SK/Nunavut | 239 | 24 | 271 |
| Members | 11,887 | | 12,965 |
In 2020 we continued to improve our member benefits program with new offerings from Sirius Benefits. Members now have access to comprehensive health and dental benefit programs.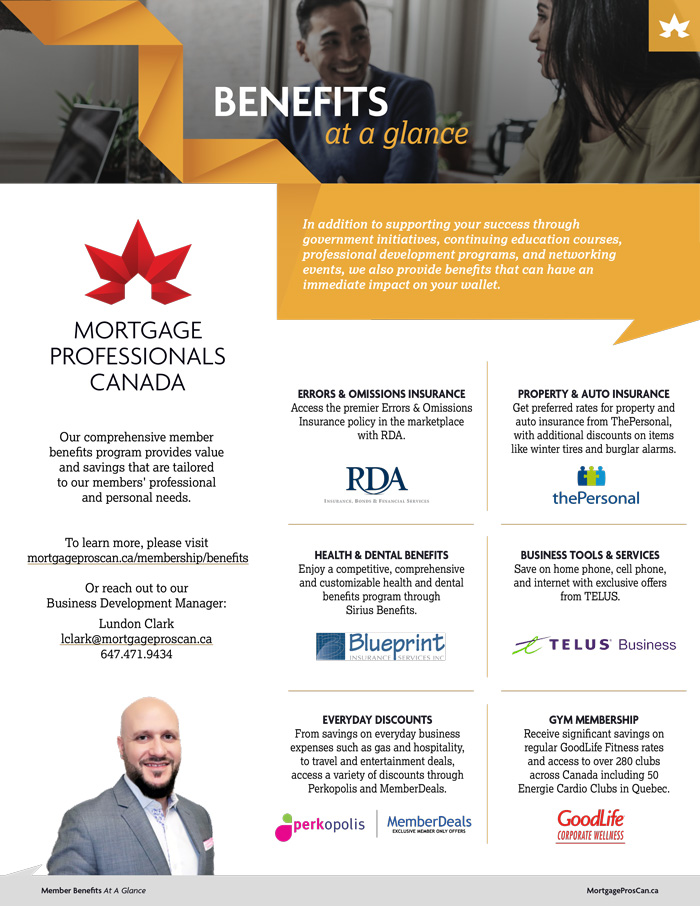 Benefits at a glance
---
Staying Connected
Prior to the pandemic, our focus was improving member engagement by adding smaller, more accessible, regional events to our calendar. We saw great success with our Atlantic Roadshow – events in Moncton, Halifax, and St. John's – as well as an event in Regina and Symposiums in Ottawa and Toronto.
Then we had to re-examine how to network safely. Through a combination of virtual and social media initiatives, including informative webinars addressing COVID-19 specific issues as well as timely industry topics, we found many new ways to come together stronger in 2020. We remain committed to making it easy for members to network, connect, and engage digitally.
1,266

registered for first ever Virtual Mortgage Symposium (two day virtual event with keynote speaker Nick Nurse, Head Coach of the Toronto Raptors)

"Navigating the New Normal" webinar series to guide members through COVID-19 crisis
"Road to Running" webinar to encourage member participation at the Board level
"In Conversation" interviews with Paul Taylor and industry leaders/policy maker on the potential and actual impacts of the pandemic, including:

Charles Stevenson

Chris Carter

Evan Siddall

Francesco Sorbara

Huston Loke

Maria Pimenta

Michael Bourque

Natalie Ferguson

Stan Cho

Stephanie Land

Will Dunning

5,198

unique views and

8,517

registrants for our virtual events
Consumer Confidence
Consumer confidence is paramount to ensuring the success of not only individuals within the mortgage industry, but the success of the mortgage industry as a whole. In 2020, MPC helped to both increase and highlight the value of mortgage professionals through two innovative initiatives: a national media campaign and the relaunch of the Accredited Mortgage Professionals of Canada (AMPC) professional designation.
Our national television campaign highlighted the expertise that a mortgage broker offers to help Canadians make important homeowner decisions. With strategic placement on high visibility national and regional networks we ensured visible and effective recall of FindMeABroker.ca bringing mortgage professionals clients and recognition.
National advertising campaigns (Spring and Fall/Winter) generating over

140 million

impressions and outperforming objectives by

53%

:

Television - HGTV, LCN, CityTV Breakfast Television (Toronto) and CTV Morning News (Vancouver)

Print - Globe and Mail mortgages special feature, national outdoor and transit

Digital - Programmatic, Facebook/Instagram, YouTube, Social Listening, Native, and SEM

4

national morning show interviews with Paul Taylor

The new AMPC is the first of three special designation programs offered in partnership with the Sauder School of Business at the University of British Columbia. Designed to help members enhance their industry knowledge and improve their technical and management skills, these specialized designations further elevate the value of a mortgage professional and instill a greater confidence with consumers.

As we roll out the second and third tiers of our professional designations in 2021, Preferred Mortgage Professional of Canada (PMPC) and Expert Mortgage Professional of Canada (EMPC), education and professional development will remain one of the Association's primary commitments.
Education & Professional Development
In addition to the launch of the Accredited Mortgage Professionals of Canada (AMPC) designation, MPC further supported the professional development of our members in 2020's unique learning environment with virtual classes, courses, and examinations.
Launched online virtual exam proctoring to allow students to write licensing exams online (MB, ON, NB, NFLD & Labrador, SK & NS)

1086

Licensing courses completed

1132

registered CE course students

870

online exam registrations

25%

increase in overall licensing course completions and enrolments for 2020 from previous year

25%

increase for online self-study licensing course completions and enrolments for 2020 from previous year

27%

increase for virtual/in-person licensing course completions and enrolments for 2020 from previous year
Developed the first provincially approved licensing course for Associate Mortgage Brokers in the province of Nova Scotia, which incorporates the new act and legislation
Updated and relaunched Quebec course in accordance with the new regulator (AMF) acts and legislation
Created a condensed course in Quebec tailored to those who have industry experience (first session begins in January 2021)
Created a course for Ontario agents and brokers to obtain their license in Quebec
Converted approximately

13

courses to HTML (9 Licensing courses, 4 Continuing Education)
Launched the 6th edition of the Introduction to the Canadian Mortgage Industry textbook
Developed a free Flood Prevention Course provided by The University of Waterloo Intact Climate Adaptation Centre
Marketing & Communications
MPC continued to engage membership, consumers, and industry professionals digitally. We tripled the size of our Marketing and Communications team, allowing us to efficiently and effectively guide our members through the COVID-19 crisis. We built an online COVID-19 Information Hub to house updates and sent frequent email communications to members, while creating our traditionally required collateral and content.
CanadianMortgageTrends.com earned over

2 million

page views with over 1 million users.
Published

4

issues of Perspectives magazine – digital and print

Digital magazine over 3000 views with an average reading time of approx. 18 minutes.

3+ million

member emails sent with a

98%

delivery rate and a

35%

open rate (average open rate in 2019 according to Campaign Monitor is

17.8%

)

10,000+

likes on Facebook

1,725

followers on Instagram

10,822

followers on Twitter

3,853

followers on LinkedIn
Financial Highlights & Operations
We continued to improve the operations and efficiencies of our CRM tools and website infrastructure by launching Online Applications for New Members, Online Applications for Members Transferring Companies, Online Corporate Payment, Coupons, etc.
In direct response to the pandemic, prioritizing the safety of our staff and members, our Operations team seamlessly positioned all staff to be able to work from home. With revised budgets and changed investments, we also placed strong focus on the financial health of the Association.
Moved 20+ permanent staff members to "work from home"
Updated CRM tools and website infrastructure to support online payments and membership changes.
Financial Highlights
These summarized financial statements are derived from the complete financial statements of Mortgage Professionals Canada as at April 30, 2020 They have been prepared by Mortgage Professionals Canada management and audited by KPMG LLP in accordance with accepted accounting standards for not-for-profit organizations.
Despite the COVID-19 pandemic's effect on our last fiscal quarter, April 2019 – April 2020 was a strong year financially for Mortgage Professionals Canada. Revenue increased as a result of continued growth in membership, events, and publications. This allowed the Association to significantly increase our investment in broker channel promotion and education.
In addition to its financial impact, the COVID-19 pandemic also resulted in many changes to the way MPC operates, limiting our ability to gather and work together in-person. The Association was well-prepared for the remote and virtual nature of the new way of working in 2020, largely due to the investment in software and infrastructure in recent years.
We are aware of the challenges the upcoming year may bring, not only to the Association and to the industry, but to Canadians in general. Operations and expenses are carefully examined to ensure the services and programs offered to members remain affordable and accessible. The exercise of due care and diligence in financial management and performance remains a key priority for the Association.
Revenue Centres (net)
Membership
Events
Education
Advertising and publications
Interest and sundry
Activities
Conference
Broker channel promotion
Education
Membership
Events
Publications
Strong Finish:

LOOKING BACK ON 2020 IN THE CANADIAN HOUSING & MORTGAGE MARKETS
Written by:
Will Dunning -
Chief Economist, Mortgage Professionals Canada
Evaluating properties purchased and rented, housing supply and demand, price growth and interest rates, 2020 showed exceptional heat in the Canadian Housing and Mortgage Markets. Our Chief Economist Will Dunning explains:
WE RE-ORGANIZED WHERE WE LIVE.
Consumer interest shifted to low rise options.
In the ownership sector, this resulted in stronger prices for low rises (up by 10% during the year) versus high rise (apartments and condos) (4%).
In the rental sector, vacancy rates fell for townhomes during 2020, but rose for apartments.
There are always some people moving out of high cost communities. That movement was much stronger than usual in 2020, due to expectations about where work will occur in future, and due to retirees cashing out home equity.
Price growth was stronger in small/midsized, less expensive "move to" cities than in the large, most expensive "move from" metropolises.
SUPPLY & DEMAND
Buying interest was much stronger for first time home owners than for current home owners (who may have wanted to move up, move down, or move away). Consequently, not enough people were selling their homes and not enough listings were flowing into housing markets. Intense competition among buyers resulted in extreme price growth in many areas of Canada.
PRICE GROWTH + LOW INTEREST RATES
=
INCREASED AFFORDABILITY
Despite very rapid price growth, home ownership affordability was much better than we thought, because of exceptionally low interest rates:
On the basis of total mortgage payments, affordability was a bit worse than average, although much improved versus 2017-2019.
Current payment schedules involve very rapid repayment of principal (for 25-year amortization, the first payment is about 2/3rd principal and 1/3rd interest).
On an interest-only basis, affordability was the best of the past 20 years.
Looking Forward
MPC is proud of our staff, Board, and members. Together, we have accomplished a great deal. We have successfully supported hundreds of individuals through some of the most challenging circumstances they will ever face. Whatever 2021 holds, we can feel confident about our industry and organization.
ABOUT
MORTGAGE PROFESSIONALS CANADA
Mortgage Professionals Canada is Canada's mortgage broker channel association. Representing over 12,965 individuals and 1,000 companies including mortgage brokerages, lenders, insurers and industry service providers. Our members, whose interests we represent to government, regulators, media and consumers, make up the largest and most respected network of mortgage professionals in the country. Together with our members, we are dedicated to maintaining a high standard of industry ethics, consumer protection and best practices.
The mortgage broker channel we represent originates 33% of all mortgages in Canada and nearly 50% of mortgages for first-time homebuyers, representing approximately $80 billion dollars in annual economic activity. With this diverse and strong membership, we are uniquely positioned to speak to issues impacting all aspects of the mortgage origination process. The mortgage broker channel is a critical and valuable profession. It creates possibility, fuels the economy and provides Canadians with choice when making the most important financial decisions of their lives.